CX8000 for Microsoft Lync
Next-generation dedicated Lync room system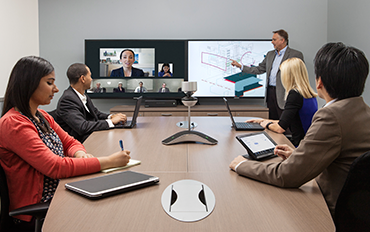 Polycom CX8000 for Microsoft Lync is purpose-built for Lync 2013 and designed to extend the familiar Lync collaboration experience that people love into conference room environment. The Polycom CX8000 combines the powerful Microsoft Lync software and the intuitive touch control system so that anyone can start face-to-face conversation with interactive content sharing in no time.
Tight integration with Microsoft Outlook and one touch meeting helps users both in the meeting room as well as remote locations to join the conference easily.
Unique 360-Degree Audio and Video Experience
When you choose Polycom CX5100 camera, you get astounding voice quality and entire 360-degree view of the conference room, as well as automatic tracking of the active speaker, making the visual collaboration over distance more engaging.
Control System for Room Automation
Partnering with Crestron's leading room control solution, the CX8000 tabletop console can also control room AV, lighting, climate, and room scheduling from the same touch screen
Datasheet
Polycom Video Conference
Polycom Audio Conference