Polycom RealPresence Mobile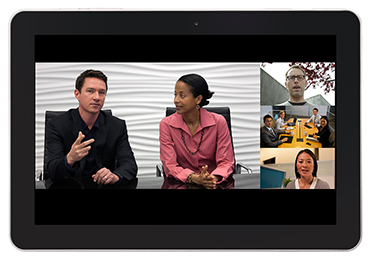 Polycom RealPresence Mobile is a powerful, enterprise-grade collaboration app that extends video communications beyond the typical conference room to tablets and smartphones. When powered by the RealPresence Platform customers benefit from app provisioning, redundancy, resiliency and reliability necessary for high-scale mobile deployments.
Innovation
Polycom SmartPairing™ technology wirelessly connects tablets to Polycom video collaboration systems, letting users control video meetings right from their personal device. New Content sharing for iPad users includes new white boarding and annotation capabilities on photos, spreadsheets, presentations and more stored locally or in the cloud.
Extend your enterprise-grade video to any business or consumer
Use your tablet to control the conference room system, share a white board and powerful Content with built-in SmartPairing technology
Experience feature rich multimedia by sharing photos, spreadsheets, documents, presentations that have been stored locally or in the cloud
Stay connected with a single device for phone calls, video conferences, e-mail, calendars and more
Enjoy the reliability, security, and lifelike quality of the legendary experience only Polycom can provide with RealPresence solutions
Polycom Video Conference
Polycom Audio Conference